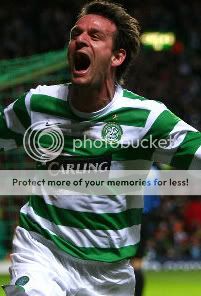 It was during Hollands Euro 2008 training camp that Vennegoor of Hesselink said "Celtic is more than a club and sometimes it's about more than football" and as he approaches the end of the contract he signed in 2006 he is eager to trigger the 12 month extension clause agreed to by both parties "I signed for three years with an option for another so we need to see what's happening. Everything is open but I enjoy it here. Life in Scotland treats me well and the family like it which is important. Celtic is a great club and we have to get together and talk. If we can agree with each other then I'll stay for another year. If you enjoy it there's no reason to think about moving. Maybe I'd like to play in Holland again one day - but right now I like it here."

The Dutch international striker suffered from an abductor muscle injury against Hamilton Accies in October which kept him out for three months but he started his first game since in the Homecoming Scottish Cup tie against Dundee last week and Gordon Strachan is delighted to have the big man back in his squad. When asked if the club would agree to extend Jan's contract Strachan was unequivocal "Absolutely no danger, we can talk any time he wants." said the Celtic boss "The coaching staff love him and the players love him. Even when you meet Jan for a couple of minutes he's terrific. He's not a 30-goals-a-season man, it's usually in the 20s. He probably has no chance of that this year because he has been out for 16 weeks but just having him in the tunnel beside us is great."

Aberdeen boss Jimmy Calderwood won't be so happy to see his friend Vennegoor of Hesselink return to the fray against the Dons "I have done well against Aberdeen and for that I apologise to Jimmy. I know him from Holland." said Jan "I've scored a few times against them, including in the last few minutes, and like to face Aberdeen. They're always competitive matches and Pittodrie is a nice venue so I hope it goes our way again. I don't know if I'll be starting or on the bench but I have to focus to do everything for the team. I usually chat to Jimmy before the game. I played with his son Scott in the Twente Enschede youth team and always look to see how Jimmy's doing at Aberdeen. I also know de Visscher, I played with him at Twente before joining PSV. He comes from my neighbourhood and is a good lad who I want to do well - just not on Sunday."

Vennegoor of Hesselink's latest injury was just one of many he's suffered since he arrived in Scotland but he's pretty sure it's not down to the 'hammer-throwers' of the SPL "The SPL is a tough league and I'm getting older so my body can't handle things the way it could when I was younger." said Jan "Football is a physical game, especially in Scotland, and I like that. I don't think it's affecting me and maybe the injuries would be the same if I was playing elsewhere. The knock I had was rare. It was an adductor injury, a bit of muscle attached to the pubic bone ripped off, and needed time to heal but I played against Dundee last week and there was no reaction."